The Beginning
"Coffee and Pastry shop Houston", as written on the shop sign, was throughout the 20th century the most popular meeting place of the local community of Patmos.
Its traces, date back towards the end of the 19th century when it first opened as the very first coffee shop in the island.
In the early 20th century, the premises were bought by George Karalis, Andrea's Karalis brother, who in turn sold the building to his brother in 1931.
Andreas, being an immigrant himself in Houston, Texas, leases the building for about 25 years, keeping it as a coffee shop though.
However, the coffee shop reaches its heyday while being directed by Andrea's son, Michael, and his daughters, Stamatia, Katina and Kleanthi, who launched the widely popular "Houston" in 1955 and took over the business.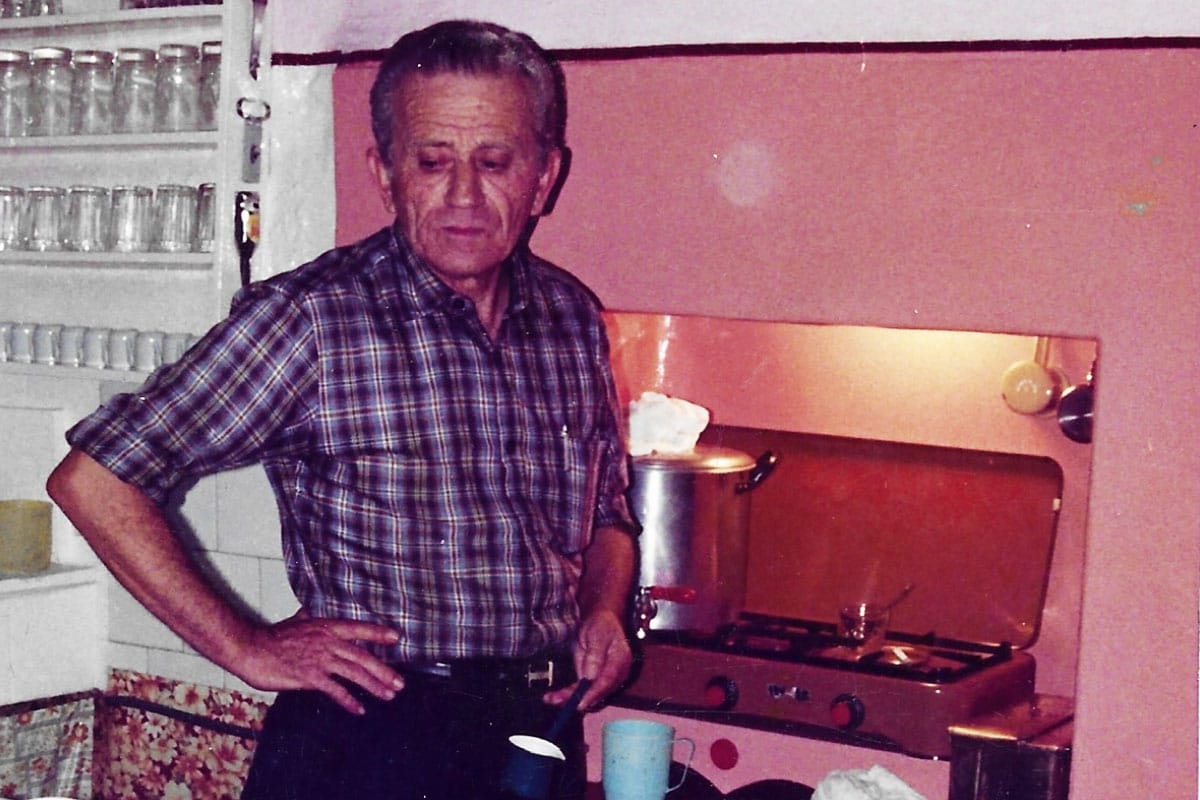 Since its opening, local people embraced and loved "Houston" as it offered them a way out of their daily problems.
Generations have crossed the doorstep of famous "Houston"; people of all ages, celebrities and others in order to savor traditional Greek coffee, sweet-tasting 'Soumada' and delicious spoon sweets.
People partied, sang, discussed, argued and experienced unforgettable moments. These special moments are still remembered and talked about.
Today, after almost 60 years under Stamatia's and her brothers' management, Yannis (youngest son of their beloved god-child Andreas Kavouras) takes over "Houston". Andreas himself worked as a waiter in the service of Michael for many years. So, Yannis along with his friend Alexis have assumed the heavy load to continue this glorious story by bringing the people of Patmos and lovers of "Houston" all over the world back to their favorite spot.
Reaching the present day, always with modesty and respect for the tradition of the shop, but also of the island itself, our efforts are focused on awakening memories in the previous generations who loved "Houston" and create memories for the younger ones, making them an integral part of its story.
Yannis & Alexis
Yiannis Kavouras
Yiannis was born in Athens at 4/3/1990 and he comes from Patmos.
He graduated from Athens University of Economics and Business (Department of Management Science and Technology).
He started his professional career as Sales Supervisor at a travel agency and right after that, he successfully completed his internship at National Bank of Greece.
He was mainly occupied in Sales, until he was hired from Procter & Gamble as a Sales Supervisor, position he retained until the summer of 2017, when he decided to take the big step with his close friend Alexis and make his dream come true, giving life again to his beloved "Houston".
He welcomes you in a daily basis, in order to share the vast history of the place and offer you a pleasant and unforgettable experience.

Alexis Agrios
Alexis was born and grew up at Kalavrita Achaias (Pelopponese), where he lives today during the winter period. There, he had a business from 2014 to 2020 that has to do with his love for the mountain : winter Skiing. Since September 2020 he took charge as general manager in Kalavrita Ski Resort, which is one of most known and crowdy ski resorts in Greece during winter period.
He studied Electrical and Computer engineering at National Technical University of Athens and during his stay at Athens met his good friend and Partner at Houston, Giannis. His love for best quality food and coffee along with his big experience on Tourism industry made his decision to open Houston very easy for him.
You can find him either at the bar measuring your Coffee doses, or in the Kitchen to supervise Houston's famous traditional "meze" recipes that makes the perfect combination with your Tsipouro and Ouzo.